Riverside Motel sits in a pristine and tranquil location. Just over the road is the picturesque Whanganui River and directly across the river from the motel is Kowhai Park, which includes an extensive childrens' playground as well as meandering strolls through vast grassed areas canopied with many large shade trees. The motel is linked to the park via the Dublin Street Bridge, making it a walking distance of a few minutes. However, if time allows the various riverbank walks or cycle rides using any combination of the four city bridges, are most relaxing and rewarding.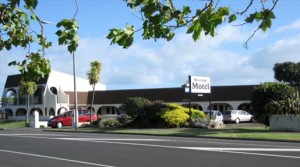 Although the motel is quietly positioned away from the bustle of the commercial and industrial sectors, it is within easy walking distance of the main shopping centre and the business heart of the city. Also within close proximity are the cultural and arts facilities – Wanganui is steeped richly in these areas. Our Regional Museum is one of the best in the country and the wide range of art
disciplines are known internationally.
Also close by and within easy walking or driving distance are a top class range of sporting and education facilities as well as many beautiful passive parks and reserves.
A 12 minute walk from the motel will take you to 'Victoria Avenue; the main shopping street, known for the colourful gardens and hanging baskets which adorn the verandah frontages.
Built in the 1970's Riverside Motel boasts of the older syle comforts; plenty of room in the units and comfortable décor and furnishings.All units have ensuite bathrooms, full kitchen facilities and couches in the lounges. Plenty of off road parking right outside the unit doors.
The units are serviced daily and laundry facilities are available for guests' use.
Continental and cooked breakfasts are available on request and are delivered to the units at a pre-arranged time.